Bravo Three Logo And Name
Find Out How Bravo Three Got Its Name And Logo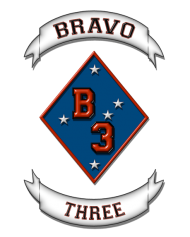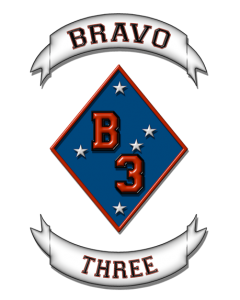 Bravo Three Logo and Name
We get asked all the time, why the name Bravo Three and where did you come up with your logo? We love telling our story because it is truly part of who we are and how we operate. Read below to get your question answered and get a glimpse into how Bravo Three has been able to grow as one of the premier security companies in southern California. 
Our Name
Bravo Three's name was inspired by the founder, owner, and CEO of the company Dave Garcia. When deciding a name for the company Dave knew he wanted to honor his past involvement with the United States Marine Corps. As a Marine, it is common to identify your unit by the name of your company and the number of your platoon. Dave happened to be a proud member of Bravo Company 2nd Platoon during his service to our nation. So, to honor his experience he knew he would be using Bravo in the company name. And the Three? It's really simple actually, the company started with three people. So there you have it, now you know how Bravo Three got it's name.
Our Logo
After deciding on a company name, it was time to design a logo. Dave again wanted to honor his past service, and the service of the many other men and women who have served our country with the US Military, by basing his logo off a logo used by his old unit.
The Bravo Three logo was inspired by the well know 1st Marine Division insignia. We used this as not only a homage to those who have served in the United States Military, but also to inspire and remind us all to carry forward that tradition of excellence into our day to day operations. The rockers displaying the Bravo Three name are a traditional add on to the logo to better identify the business in the same style used by the military.