How to Get A Guard Card
Step by Step on How to Get a Guard Card in California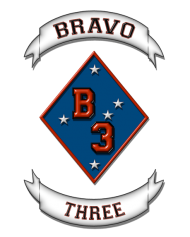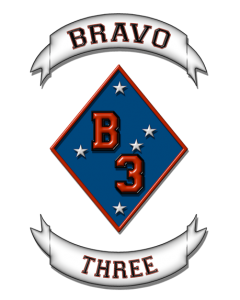 Bravo Three Guard Card Classes
Bravo Three Guard Card Classes
Bravo Three Guard Card Classes
Step 1 – Take the initial 8 hour guard card class
Note – If you are not 18 you cannot apply for a guard card.
The initial 8 hour guard card class can be taken online or in a classroom. The online guard card class is the preferred method by most guards because it will typically be cheaper and more convenient. The only downside to the online guard card class is it will not be interactive, so you can't ask questions.
No matter where you take the course it will be broken down into two 4-hour segments. 4 hours on weapons of mass destruction (WMD) and 4 more hours on Powers to Arrest. From my experience, online classes will actually only take 4-6 hours total depending on how quickly you get through the reading and videos. And you don't have to complete it all at once. From there you can print out a certificate as proof of completion.
If you want to get started now on step 1, you can take the initial 8-hour guard card class with Bravo Three by clicking here.
Step 2 – Get fingerprinted by Live Scan
Once you have completed the initial 8-hour guard card class, it is time to do some paperwork. You will be working with The Bureau of Security and Investigative Services (BSIS) for all paperwork involved. BSIS is the overseeing entity involved with the security industry, so you will be hearing their name a lot.
The first part of completing paperwork and the next step on how to get a guard card is to get fingerprinted. Live Scan is the only acceptable form of getting fingerprinted, so make sure you go to the right place. Before you go, you will need to download and print the proper Live Scan forms provided by BSIS. Go to Request for Live Scan Form to download the PDF. You will notice the Live Scan PDF contains three identical papers. The original copy is for the Live Scan Operator, the second copy is for BSIS, and the last copy is for your records.
Fill out all three papers before going to get fingerprinted. Fill them out the same and so they can easily be read. If you can type in your information it is even better. If you aren't sure of an answer, leave it blank. It is likely intended to be answered by the live scan operator. Then, locate your closest Live Scan Operator. Use this link to help you locate a Live Scan Operation nearest you.
Keep in mind a $32 DOJ fingerprint processing fee and a $17 FBI fee must be paid at the Live Scan site, totaling $49. This does not include the Live Scan site fee (known as a rolling fee). This fee is set by each Live Scan Site and can vary. BSIS does not set the fee. You should expect to pay around an additional $11-$25 for their service. So expect the total cost for fingerprinting and processing to be $60-$74.
Step 3 – Submit Security Guard Application
Once you have completed the initial 8-hour guard card class, and got fingerprinted, it is time to submit your security guard card application.
To get the application process started you can download the PDF by clicking  Security Guard Application form or visit The BSIS website to complete the documents online. Click here for the link to register for an account and complete the guard card application online. It will cost $50 for the security guard card application fee, and an extra $1 online convenience fee if you choose to submit it online.
The guard card application is only one page and it asked very simple questions.
*Important* If you are submitting your application by mail, you must have the Power to Arrest section hand-signed by the instructor of the course. It cannot be scanned or faxed because BSIS with not accept it. If you apply online the signature is not required.
Step 4 – Once cleared, receive a copy of your guard card by mail or print a copy online
Once the Bureau has received the fingerprinting, online application and criminal history clearances, the cleared security guard will appear on the BSIS Web site. You can verify the approval by checking the BSIS "Verify a License" by clicking here . Once the security guard registration has been cleared and appears on the Bureau's Web site, you can take a screen print-out of the license. You can use this as a temporary guard card. Congratulations! At this point you can legally work as a security guard in the state of California.
The actually hard copy of your guard will be sent in the mail at the address you provided. The BSIS website says you should receive your guard card in 10-15 days, but they have been known to take longer at times. So, be patience and don't worry, because your screen print-out of your guard card will work just fine.
Remember, you must carry your guard card and a valid photo ID to legally work as a security guard in the state of California. You must also do additional training to keep your card current. Continue to read below on how to get your guard card and keep it.
Step 5 – Within 30 days, take additional 16 hours of guard card training
So we have answered the question, "How do I get a guard card," now we want to answer, "How do I keep my guard card." After you have received your guard card clearance, and hopefully started working, there is a bit more work to be done. Although there are a lot of companies that may hire you at this point, many companies won't hire you unless you have completed all 40 hours of guard card training. You have already taken 8, and now you are required to take 32 more hours within a certain time period. Click here to look at the affordable online guard card classes Bravo Three has to offer. 
The first 16 hours are made up of 8 hours of mandatory classes and 8 hours of elective classes and must be completed within 30 days from the time you began working. For a full list of all mandatory and elective guard card classes click here.
Step 6 – Within 6 months, take additional 16 hours of guard card training
You are almost there. At this point you should have completed 8 hours of initial guard card training and 16 additional hours of training, totaling 24 hours. Now you are required to take 16 more hours consisting of the other 8 hours of mandatory courses and 8 elective course hours. Go here to complete the courses. This will bring you to a total of 40 hours of guard card training. For a full list of all mandatory and elective guard card classes click here.
After you have completed this last 16 hours of training you are a fully licensed security guard, congratulations. You now meet the minimum guard card requirements for most security companies. Make sure to stay current with ongoing training and BSIS fees.
Step 7 – Take 8 hour refresher course annually
Once you have completed the 40 hours of initial guard card training, the only additional training you need is 8 hours per year. You can retake courses you have already completed or take new courses. You can choose from classes that were considered mandatory or elective, it doesn't matter. Click here to view the wide range of classes Bravo Three has to offer. For each course completed, the company providing the training will give you a Certificate of Completion. Don't make this more complicated than it is. Do 8 hours of training from the long list of guard card classes, get a Certificate of Completion, and you will be fine.
Other Guard Card Considerations
-Renewing your guard card-
Once you have gone through the trouble of getting your guard card, keeping your guard card is easy. Other than training, all you need to do is renew your guard card ever 2 years.
You should reapply 60-90 days before your guard card expires to avoid any lapse in certification. It cost only $35 for your standard guard card renewal if you apply on time. You can apply up to 60 days after the expiration date but it will cost an additional $25, so $60 total.
***Important *** If you do not reapply within 60 days of your expiration date, your guard card is void and you have to completely start over from the beginning. You must apply as a first time applicant, including fingerprinting, and a background check.
Go to this link to reapply online or click on Guard Card Renewal App to download the application to be mailed in.
Guard Card Classes
The mandatory guard card classes include:
Public Relations (Community & Customer)      —   4 hours 
Observation & Documentation         — 4 hours 
Communication and its Significance    — 4 hours
Liability / Legal Aspects     — 4 hours
The Elective guard card classes include:
Post Orders & Assignments   — 4 Hours
Employer Policies / Orientation  — 4 Hours
C. Evacuation Procedures  — 2 Hours
D. Officer Safety   — 4 Hours
E. Arrests, Search & Seizure (more advanced than PTA course)  — 4 Hours
F. Access Control — 2 Hours
G. Trespass   — 4 Hours
H. Laws, Codes, Regulations and Ordinances — 2 Hours
I. First Aid / CPR    — 4 Hours
J. Handling Difficult People   — 4 Hours
K. Work Place Violence  — 4 Hours
L. Chemical Agents   — 4 Hours
M. Preserving the Incident Scene   — 4 Hours
N. Crowd Control   — 4 Hours
O. Driver Safety  — 4 Hours
P. Supervision   — 4 Hours
Q. Courtroom Demeanor   — 4 Hours
R. Parking / Traffic Control — 2 Hours
S. Radio Procedures — 2 Hours
T. BSIS's Certified Course in Firearms Training  — 8 hours
U. BSIS's Certified Course in Baton Training   — 4 Hours
V. School Security Guard Training — 8 hours
W. Introduction to Executive Protection   — 4 Hours
X. Annual Firearms Requalification   — 4 Hours
Y. Fire Safety Course  — 4 Hours
Z. Course in the Use of a Stun Gun or Air Taser — 4 Hours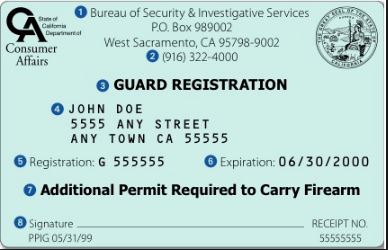 Bravo Three Guard Card Classes
Bravo Three Guard Card Classes